Music That Speaks to Your Soul

New Jazz CD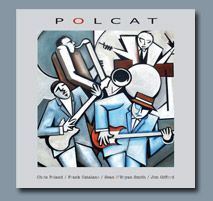 Many of the legendary jazz albums were collaborations with all the qualities of a successful marriage. In that tradition, this recording was crafted during a great first date filled with fire, ice and harmony.

Coming together for the first time, four artists took a leap of faith to make jazz the old fashioned way—with little writing in advance. The result was pure magic. On track after track, you can hear the excitement growing while the chemistry between the musicians evolves. It's an intense musical conversation, fueled by improvisation and playful energy as the musicians connect, explore and capture the once-in-a-lifetime spirit of the moment.

Only $9.95

Get Special Flat Rate Shipping on All CDs.

Buy Now
It's gospel wrapped in rich history yet often from a fresh perspective. It's soul that celebrates African-American culture and lifestyle.

Our label, like you, defies definition, delivering unsurpassed artistic expression—from today's rising stars and established talent. Through their voices, our artists inspire life and ignite passion.

Every playlist embodies the African-American spirit. You can hear it in the glory of a singular human voice and the uplifting power of a world-class choir.



Ashro Records is the soundtrack of life's journey.