Amazing Women Making An Amazing Difference
By Leslie E. Royal
There are numerous scriptures in the Bible in which individuals are reminded, implored, and encouraged to unselfishly serve others. It's no secret that women live really busy lives. They often have full-time careers and a busy family life caring for spouses, children and even aging parents.
With such demanding lives, it's understandable if women can't do much more than that. But there are special women that give so much of themselves, in innumerable capacities, to their various churches and broader communities. Ashro would like to recognize 17 of the countless, dynamite African American women who go beyond the call of duty in caring for, supporting, and encouraging others in their daily lives. Ladies, we salute you and we CELEBRATE you. Thanks for all of the incredible things you do.
---
Nicole Adewale
"God created us all as social beings to serve each other. Therefore, to serve others is the best way to worship and give thanks to God."
Place of Employment: Co-Founder of ABNA, a Civil Engineering and Design Firm
Name of Church: Community Church of God
Church Website
Community Contributions: Nicole is quite active in her church. She volunteers as her church's secretary as well as the facilitator of the Planning Committee. She pens inspirational thoughts of the week and produces the church bulletin. Believing in the vital importance of reinvesting in the community that she serves, she works with community organizations such as the National Society of Black Engineers. Her company helped raise over $100,000 for college scholarships. She volunteers with FIRST (For Inspiration and Recognition of Science and Technology) and has worn many hats to assist young people around the globe in exploring STEM careers. Additionally, she is a member of Alpha Kappa Alpha Sorority, Inc., Top Ladies of Distinction, Better Family Life, and the Board of the St. Louis Regional Chamber.
---
Vickie Ashford
"In serving others, my heart is happy. I realize that I have the ability and substance to serve while so many others do not."
Place of Employment: Greater Birmingham Convention and Visitors Bureau
Name of Church: Unity of the Faith Ministries
Church Website
Community Contributions: Vickie has always had a spirit of servanthood. She is a member of her church's intercessory team. Weekly, she leads Bible Study at her office. Her passion is serving and spending time at Jessie's Place Birmingham. It is an organization that provides shelter, food, clothing, and other resources for homeless women and their children. Vickie lives out and truly believes the scripture in Luke 14:13-14. "But when you host a banquet, invite the poor, the crippled, the lame, and the blind, and you will be blessed. Since they cannot repay you, you will be repaid at the resurrection of the righteous."
---
Deloris Birch
"It is important that if we are blessed with much, we should help others in need. We are held accountable. It is our Christian duty to pay it forward and glorify God."
Place of Employment: Marriott Foundation Bridges from School to Work
Name of Church: Greenforest Community Baptist Church
Church Website
Community Contributions: As an advocate for people with disabilities in the local community, Deloris provides high school seniors in the Atlanta Public School System with Job Readiness training skills to transition them from school to work. She has helped hundreds of young people over the years find viable employment in the community. She has volunteered in so many areas such as Back-to-School Supply Drives, evangelism blitzes, playground mobilization, backpack initiatives, health and wellness fairs, Women's Ministry duties, singing in the Adult Choir and Longest Day Alzheimer's Awareness. In addition to serving at her church, Deloris works faithfully and diligently with her sorority and volunteers with the NAACP.
---
Jenice V Brinkley
"As a disciple of Christ, I'm here to serve God's people in whatever capacity I can!"
Place of Employment: Brinkley Realty Group LLC dba BRINKLEY ENTERPRISE
Name of Church: Beulah Missionary Baptist Church
Church Website
Community Contributions: As the CEO and Real Estate Broker/Co-Owner of a woman-owned minority business, Jenice and her husband have gone out of their way to partner with nonprofits in her community. She directs them to numerous First-Time Homebuyers Seminars in order to educate them on the ABC's of purchasing a home. She takes the time to help them in finding down payment assistance through various programs. She and her team have educated more than 1000 participants and sold over 1000 homes to first-time homebuyers in the community. Through her membership on several realtor and broker boards, she has been able to help stabilize the community by assisting with sales of real estate owned homes. She serves on the Lithonia High School Advisory Board, Beulah Business Network at Beulah Missionary Baptist Church, Deaconess Board, and Usher Board. She teaches Discipleship classes at church and serves her sorority as well.
---
First Lady Clytemnestra L. Clarke
"I believe serving stems from a heart of compassion and concern, and it is an opportunity to impact and touch the lives of those who need to be reminded of God's love for them."
Place of Employment: First Church of God
Name of Church: First Church of God
Church Website
Community Contributions: Clytemnestra is a Licensed Professional Clinical Counselor (LPCC). She utilizes her professional talents to volunteer her counseling services to pastors, pastors' spouses, and the community at large. She also spends time serving as a volunteer with the Millennium Charter School system. Her community service also includes being a Commissioner for the Commission on Black Girls. Created by the Columbus City Counsel, it impacts and influences the lives of African American girls in the community. In her church congregation, she serves as the Director of the Women's Ministry. This auxiliary is designed to develop and implement social and community programming to encourage women in their journey of growth.
---
Rev. Legena S. Crawford
"Serving others is nonnegotiable; it models who Christ is."
Place of Employment: Atlanta Public Schools
Name of Church: Strong Tower Christian Life Ministries
Church Website
Community Contributions: Legena has been teaching for over 20 years. "Rev. G," as she is affectionately called, has partnered with several ministries in the community to help feed the hungry and facilitate educational seminars to empower others. Legena serves as her church's prayer ministry coordinator, and she helps with its annual Back-to-School Bash to provide supplies for those who are less fortunate. Legena has facilitated a number of women's conferences through her nonprofit called The P.O.W.E.R. Experience. It's important to her to empower women by building self-esteem and addressing social issues.
---
Melinda Emerson
"I will never beat God's giving no matter how much I give."
Place of Employment: Quintessence Group
Name of Church: Monumental Baptist Church
Church Website
Community Contributions: Melinda is quite active with youth activities, the higher education ministry, church garden, adult choir and Vacation Bible School at her church. Known as the "SmallBizLady," she financially supports various church anniversary and special events through her business. She has given presentations to teen and women's ministries about business ownership and leadership. Throughout her community, Melinda conducts workshops on running a business. She also publishes a resource blog which teaches others how to live their dream life as a business owner.
---
Neva Jones Foster
"It's better to give than to receive. I know that my blessings come from all I do for others."
Place of Employment: Delta Air Lines, Inc.
Name of Church: Ousley United Methodist Church
Church Website
Community Contributions: Neva embodies the spirit of service to others. In addition to her church, she is a member of Alpha Kappa Alpha Sorority, Inc, the National Council of Negro Women, DeKalb Section, Albany State University Alumni Association and the Hunters Homeowners Association. Her outstanding community involvement includes Delta Air Lines' Relay for Life, Habitat for Humanity, American Red Cross, Health Fairs, AKA One Million Backpacks, Think HBCU, Back-to-School donations, Thanksgiving and Christmas Baskets, ASU Band Scholarships, political forums and her church Communications Committee.
---
Evangelist Shana Joseph
"Jesus lowered himself down to be a servant and to be poor, just so he can raise us up."
Place of Employment: Global Evangelist and Author
Name of Church: Harvest Army Church International
Church Website
Community Contributions: As an evangelist, Shana finds praying and sharing the Gospel with others an imperative. She specifically goes out to minister to the senior citizens in the community. She visits family shelters and gives out clothing, coats and footwear to adults and children. Visiting neighborhoods of those less fortunate, she carries suitcases full of clothes and other items. Finding those with addictions and other social issues, she assists them in any way possible. A minister at her church, she teaches and trains youth on reaching their full potential. Additionally, she is an assistant pastoral aide with duties including serving the leaders as well as traveling with them.
---
First Lady Yulinda Lewis Kelly
"If I can help somebody, as I pass along, then my living shall not be in vain. I owe it to God to help and serve others because God has given me another chance at life."
Place of Employment: Witness Project of Harlem/Mount Sinai Hospital
Name of Church: Miracle Temple Church of God in Christ
Church Website
Community Contributions: Yulinda, affectionately known as Yolanda, is a living, breathing, walking miracle. She is a two-time breast cancer survivor. Ten years ago, doctors gave her six months to live. Today, she continues to fervently go about the business of serving God and her community. She works with the Witness Project of Harlem to educate men and women in the community on the importance of cancer screenings. She conducts many health fairs, health presentations and cancer conferences in her church and community. As First Lady of her church, Yulinda implemented the health and wellness ministry and teaches the congregation the power of journaling to God.
---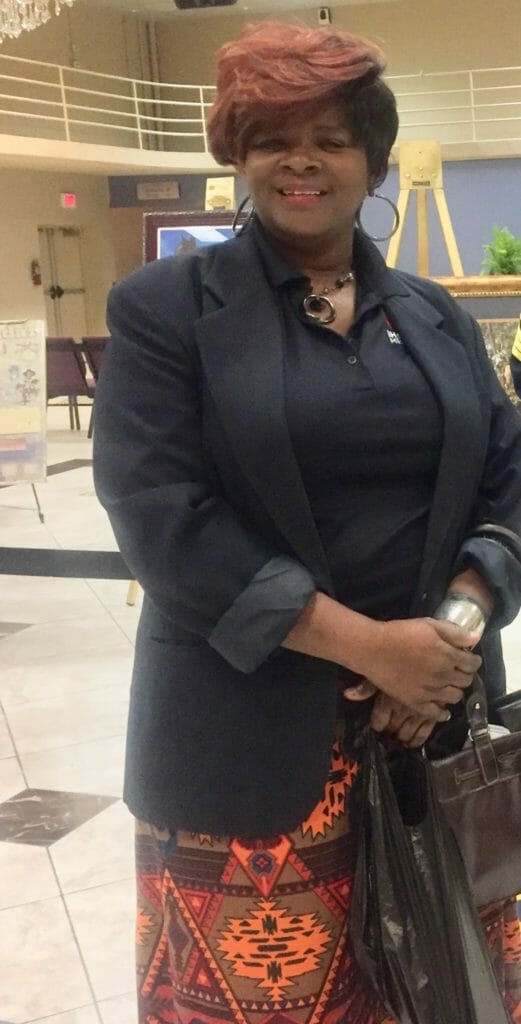 Elder Loretta Petit
"Giving back is saying thanks to God for the privilege of having something to give. We truly serve God by serving others. I serve so that God would be glorified with my life."
Place of Employment: Petit-Kendeka Women Edu-Preneurs, Inc. and Hey-Lo Media & Business Works, LLC
Name of Church: Greater St. Stephen Full Gospel Baptist Church
Church Website
Community Contributions: Loretta serves as an assistant pastor to Pastor Debra B. Morton, Church Council Member, Overseer of the Evangelism Ministry and an Adjunct Interpreter for the Deaf for the Deaf Ministry. As the founder of C.O.F.F.E.E. Sisterhood Network, the church elder serves her community by empowering women to do their best as they grow into all that God would have them to be. Her nonprofit assists pregnant teens, supports back-to-school giveaways, serves the homeless with warm clothes, assists women in shelters and created Socks for Seniors and Toy Drive for Orphaned Children campaigns.
---
Matabani "Matty" Sithole
"Serving is meaningful, gratifying and rewarding. It is the Christian thing to do."
Place of Employment: Dekalb County Schools
Name of Church: First Baptist of Atlanta Church
Church Website
Community Contributions: A special education teacher by profession, Matty taught pre-school at her church for over ten years. Volunteering to care for babies ages 7 months to 18 months, she also taught toddlers about the love of Jesus. Matty and her team sang to them, fed them and changed their diapers. It was important to her to promote the mental, social, emotional, physical and spiritual development of the babies. In her community, she is very passionate about campaigning for financial literacy. Going to various locales hosting Lunch and Learn events, she educates her community about building wealth, transferring wealth, getting out of debt, saving, investing, and having protection.
---
Chanel Walker-Bailey
"As a Christian, I truly believe that to be an effective representative of Christ, I must live my life selflessly for others as He did."
Place of Employment: RealBoldTruth Ministries L.L.C.
Name of Church: Victory Christian Fellowship
Church Website
Community Contributions: God has allowed me to use my ministry gift as an encourager for those with heavy hearts. I have the incredible privilege to sit on my church's monthly women's internet program as a co-host. I also serve regularly as a teacher for weekly Bible study lessons.
Prison ministry is also a way that I serve in my community. I go into a women's correctional facility bimonthly with a group of ministers. Collectively, we offer encouragement and hope through Jesus Christ. In addition, I am a published author, internet radio and television personality on Heart Ministry Radio, and an inspirational speaker.
---
Carolina Bethea Robinson
"Practice Patience. Experience Giving. A person does not care how much you know. They want to know how much you care about them and it comes with Patience and Giving."
Place of Employment: Rockdale County Public Schools
Name of Church: World Covenant Christian Center
Church Website
Community Contributions: Carolina has a special calling to serve at church and in the community. She serves in the Ushers Ministry and Greeters Ministry. As a doorkeeper, it's important to her to treat others with kindness and dignity. She is dedicated to serving children and families long after the school bell has rung ending the day. She has worked to implement ways to feed and clothe students and families that are less fortunate as well as those living in transitional shelters. Carolina helps meet basic needs at home in order for students to be successful at school and beyond.
---
Jewell Edwards Washington
"I never really thought about my service at church. God guides me in the direction in which He wants me to go. I try to be obedient and follow."
Place of Employment: Retired from The State of Missouri
Name of Church: Friendly Temple Missionary Baptist Church
Church Website
Community Contributions: Jewell has served tirelessly and faithfully in the Usher Ministry for twenty years. She has also worked with the Outreach Ministry. She and other members cooked, clothed, and fed the homeless in the community and surrounding areas. She is the coordinator of the Greeter's Ministry. Loving what she does, she attended ETA Classes to better serve in ministry. Jewell retired from the State of Missouri where she worked in mental health for 50 years. Currently, she volunteers with the Metropolitan Psychiatric Auxiliary and serves as its treasurer.
---
Carolyn Watson
"My belief is that none of us can do anything truly 'great' in the world until we've done something 'gracious' in the world to impact the lives of others."
Place of Employment: Helping Oppressed Mothers Endure, Inc. (H.O.M.E.)
Name of Church: New Life Baptist Church
Church Website
Community Contributions: A really creative and imaginative person, Carolyn uses her artistic talents to bring the Bible alive at church. She is the Co-Lead for Kidz Citi Children's Ministry. She designed and facilitated "BibleLand" which hosts more than 600 children each year. She has written Easter speeches and penned Bible-based puppet show scripts, Christmas plays and productions. Carolyn narrated and produced a church documentary called "Living in Liberia" and co-led a global leadership summit. She's equally involved in the community. Projects include "Meet Me at the Corner" food boxes and assisting single moms and children transition from homelessness, addiction recovery programs, shelters, etc. Her organization hosts clothing giveaways and prom dress giveaways. They furnish necessities such as cookware, new or gently used furniture, décor, mattresses, utensils, and other things needed to help women live a life of full independence.
---
Derrica Denise Williams
"Serving others is important because we are our brother's keeper. My daily prayer is for God to continue to reveal to me ways that my life can positively impact others."
Place of Employment: Concepts, Inc.
Name of Church: Gospel Hope Church
Church Website
Community Contributions: Derrica created the inaugural Debutante Ball for teen girls at her church. She teaches young ladies proper etiquette, life skills and how to live a wholesome, Christ-centered life. The girls have become leaders at their schools and churches. She also mentors teens at Tri-Cities High School, serves on the Lakeside High School Foundation Board and is the president of the DeKalb Section of the National Council of Negro Women.
---
---
Why It's Important to Serve the Broader Community
by Celena M. Stewart
The church is a microcosm of the community. Jesus is quoted as saying "If you love me feed my sheep." One of the ways we show the awesome love and power of God is by taking care of His children and those He has created. Furthermore, in Matthew 25:35, there is a parable shared with God's people about his eternal judgment. In this parable, God shares that He considers our service and treatment of others as a reflection of our service and love towards Him. If you read the parable in its entirety, God says that when you do not serve others, your heart is not with Him and He rejects you. When we serve in the community, we get an opportunity to serve God; not indirectly, but directly. He is in each and every opportunity we encounter.
Whether it is a man on the street, a family member in need, a family just burned out of a home, or simply allowing someone to walk across the street when you are actually driving. No deed goes unseen in the sight of God. Likewise, it would be beyond reason to worship in a community and not share the love of God with those residents nearest to you. Furthermore, to experience the provisional power of God in action and be unwilling to share it with those in need so that they could develop a personal relationship with the same God, would bring into question your true Lord. We serve because God is the solution for every ill in our community. When we point others in that direction, through worship, the word, and witnessing, we can impact the tenor of this world for good and for God.
Celena M. Stewart is the Minister of Outreach for Berean Christian Church. Headquartered in Stone Mountain, Georgia, it has three locations. Founded by Senior Pastor, Dr. Kerwin B. Lee, under his leadership, this church has implemented numerous service initiatives. It has an unwavering commitment to serving the community locally, regionally, nationally, and globally.
– Are You An Ashro Woman? –
Compassionate. Confident. Beautiful–inside and out! We're calling on the sisterhood of Amazing Ashro Women to inspire. Share your story and your style now.